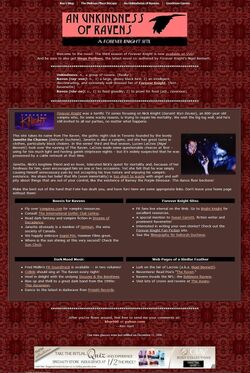 An Unkindness of Ravens (http://satyr9.tripod.com/raven/) is Ken Hart's Raven/ettes' faction page.
The webpage contains the following:
basic information about Forever Knight, focusing on Janette.
links to Forever Knight sites
links to vampire-oriented sites
links to sites with "suitable" music
An Unkindness of Ravens is a single web page, with a striking crimson tapestry background over which shifts the central panel containing the text. This has a dull puce background colour that tones with the background tile. A simple white-dot divider bar is employed throughout, giving a unified look to the page.
The site logo features the "Raven" symbol from The Raven nightclub, which is also the faction symbol. Two blue-toned pictures (one with the FK logo, the other a screen capture of Nick and Janette) are used to illustrate the page.
This webpage was originally part of "Ken's Evil Spider-Web" (http://www.xensei.com/users/khart/index.html), a multi-focused personal website belonging to Kenneth Hart. The site counter on An Unkindness of Ravens dates visitors from 8 November 1996; and the webpage was first archived shortly thereafter. It lasted at least until August 1997. At some subsequent time, the site was moved to its current location. It was last updated 11 December 2006.
The original version of the website is archived on the Wayback Machine. The site is complete, with all the graphics.
Community content is available under
CC-BY-SA
unless otherwise noted.