"
Look, I can't take this one to the hospital and the emergency room. What am I gonna tell them? He's allergic to penicillin, garlic, sunlight, crosses, and food? He's about 450 and he can fly?
"
 

— Vachon, Fever
After draining the blood of an escaped lab rat, Screed falls mortally ill. As the sickness spreads to other vampires, Natalie realizes that, if she can find no cure, the entire race of vampires may be doomed.
Guest Cast
Edit
Detailed Story Recap
Edit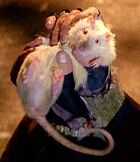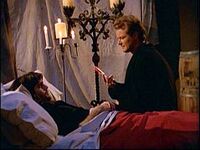 Vampire Lore
Edit
Fan Fiction
Edit
Vachon--"In five hundred years I've buried a lot of mortal friends."
Tracy--"So when does it get any easier?"
Vachon--"I'll let you know."
Nightcrawler Monologue
Edit
They say the ages of man are denial, awareness and acceptance. A young man believes he will live forever. A middle age man knows he will not. And an old man is ready.
What then of those taken out of sequence? How to prepare them for the bitter end?
A man who knows he will not die is a young man. He is kept young by the knowledge that death shall have no dominion. There's nothing so hard as watching that die.
A dozen in a single night. My children and my people. Who should have lived forever, living their last. Who would ever believe that they would die?
My people...
My children. One short sleep past. We awake eternally and death shall be no more. Death thou shalt die!
We will survive.
Behind the Scenes
Edit
The German title for this episode is "Die Infektion " ("The Infection").
Continuity
Edit
Canadian Content
Edit
Community content is available under
CC-BY-SA
unless otherwise noted.