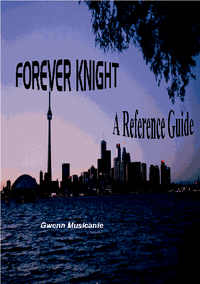 Forever Knight: A Reference Guide is a book written by Gwenn Musicante about the television series, Forever Knight. It was self-published in 2003 with the permission of the publishing division of Sony/Tristar.[1]
It should be noted that, when referenced on other FK fans' websites or on the ForKNI-L mailing list, Forever Knight: A Reference Guide is always referred to as a "book", not a "fanzine" or "zine".
The books sold for $20.00 plus shipping, and the 200 I had printed, sold out within a couple of months. I self published, which meant that I had to pay a couple of thousand dollars up front to the publishing company. I did not purchase an ISBN number because of the added cost of a hundred dollars. I was concerned that I might not get the money back with the sales. I pretty much broke even, but I still feel that it was worth it for Forever Knight to have its own book as a tribute to the series.
[2]
Forever Knight: A Reference Guide is perfect-bound, 8¼ by 10¾ inches in size, with cardstock covers. The front and back covers have the same picture, a colour photograph of the Toronto skyline that was taken by Marg Yamanaka. Both Marg and Cloud Worley supplied photographs for the interior; these were printed in black-and-white.
character biographies
interviews with:

James D. Parriott (creator)
actors:
script writers

Shelly Goldstein
Gillian Horvath
Gary Stephen Rieck
Morrie Ruvinsky
Michael Sadowski

directors:

Timothy Bond
Jon Cassar
Bruce Pittman

producer/writers:

Larry LaLonde and Phil Bedard
Nicholas J. Gray

composer

episode lists, with brief plot summaries
tie-in novels:

interviews with the authors

location photographs
In addition there was a small amount of material about Forever Knight fandom:
References on Other Sites
Community content is available under
CC-BY-SA
unless otherwise noted.