In the autumn of 1888, there was a series of sensational murders in London in the Whitechapel area. From a letter sent to a newspaper, the killer became known as Jack the Ripper. The five victims were all prostitutes. Their throats were cut; and the body was then mutilated, with internal organs being removed from three of the victims. This led to speculation that the killer possessed surgical skills; but no one was ever arrested for the crimes, which remain unsolved to this day, though theories about the identity of the murderer abound.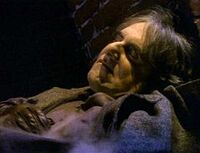 What the rest of the world doesn't know is that Jack the Ripper was actually a vampire. In 1888, when
LaCroix
and his family were in London, he attacked a barber—only to find himself poisoned in turn. While Janette went to find a new victim for him to drain so that fresh blood would wipe away the taint, Nick was supposed to go and make sure that the barber was actually dead. Reviled by the order, Nick refused; and thus Jack the Ripper was brought over.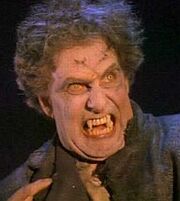 After his killing spree in London ended with his departure, Jack roamed the world, responsible for serial murders wherever he went. In recent years, this came to the attention of Chief Inspector Liam O'Neal, an Irishman with Interpol connections—and a vampire hunter with a personal reason to suspect the real nature of the perpetrator of all the murders.
When similar crimes occurred in Toronto, O'Neal came hunting. Although side-tracked for a while by his suspicions of Nick, he eventually went with Dr. Natalie Lambert to the old building where Jack was hiding. Det. Bridget Hellman was already there, searching it. When Jack emerged at nightfall and attacked her, O'Neal quickly rammed him with Natalie's car, pinning him against a wall. The car burst into flame, and he was burned to death.
Due to both his appearance as well as the brutality of his crimes, "Jack" is considered a carouche mostly due to his insanity.