"
They'll put me in this tight spandex dress cut up to here and the neckline somewhere down around my waist. Four inch spikes. Leather. Babe cop. What are you looking at?
"
 

— Tracy, My Boyfriend is a Vampire
After a guest on The Jerry Show claims that her boyfriend is a vampire, she is found dead. Was her claim true? Has her vampire boyfriend killed her to keep her quiet? Once the victim's background has been investigated, Tracy is assigned to appear as a guest on the show in the hope of drawing out the killer.
Guest Cast
Edit
Detailed Story Recap
Edit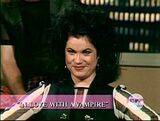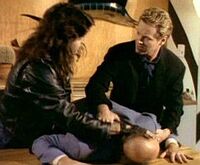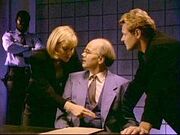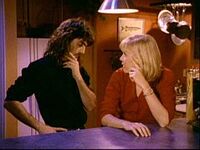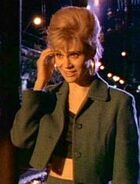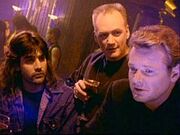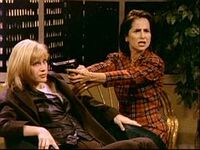 Vampire Lore
Edit
Fan Fiction
Edit
NICK:   So, now you're Tracy's snitch.
VACHON:   She told you?
NICK:   She didn't have to. Did you get a good look at the attacker?
VACHON:   No. And with the camera on me, I couldn't do more than was humanly possible, if you catch my drift.
TRACY:   Hey, Vinnie. What's going on?
VACHON:   Looks like the deal went south. The fat man had his guys ice Thursby and then he took off with the bird.
JERRY:   Great! This sounds so street!
CHARLIE:   I don't know. To me, it sounds familiar.
VACHON: Things were so much simpler in the old days.
LaCROIX:   They need be no more complicated today, as long as we are true to our nature. Operate discreetly.
Nightcrawler Monologue
Edit
Love. How it toys with us, makes utter fools of us, flogs, whips, and spanks us. Listen to the voices of the unloved as they surge and retreat in the night. Whispered in empty rooms and lonely beds, the hunger of love unattained, rushing through our fingers, unstoppable, fleeting, gone. And yet, when we touch this love it burns us with its bright flame, it punishes and consumes. And yet we must have it. It rules us: uses, abuses, misuses. And yet, why do we always crawl back for more?
Behind the Scenes
Edit
The German title for this episode is "Talkshow des Todes" ("Talk Show of Death").
The Jerry Show is a possible homage to The Jerry Springer Show which probably hit its peak around that time and had several controversial episodes about who was whose lover.
Continuity
Edit
Canadian Content
Edit
Community content is available under
CC-BY-SA
unless otherwise noted.