Season Summary
Edit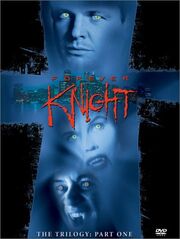 Episode List
Edit
Image
Title
Writer(s)
Director(s)
Airdate
#
Dark Knight
Writer: James D. Parriott
Director: Allan Kroeker
05 May 1992
#2 101
Nicholas seeks a mystical Mayan jade cup, which he believes holds the key to becoming human again. The nefarious vampire Lucien LaCroix will stop at nothing to see that Nicholas never obtains this precious relic.




Dark Knight: The Second Chapter
Writer: James D. Parriott
Director: Allan Kroeker
06 May 1992
#3 102
A beautiful museum curator becomes involved in Nicholas's search for the elusive Mayan goblet. Her life and the fate of the cup are threatened by the scheming LaCroix.




For I Have Sinned
Writer: Philip John Taylor
Director: Gerard Ciccoritti
12 May 1992
#4 103
While a religious fanatic hunts down and murders the young women of a local church, a young priest must honor the sanctity of the confessional and not reveal what he knows. To catch the killer, Nicholas is forced to enter the church and confront his religious phobias.




Last Act
Writer: Brad Wright
Director: Rene Bonniere
19 May 1992
#5 104
A young woman dies, and all evidence points to suicide. Nick, however, has a gut feeling that it was murder, but seems unable to prove it. Added to his stack of unsolved crimes, it makes Nick question his own feelings of self-worth, especially after hearing about another, real suicide: that of one of his "old friends". Nick must search through his memories of their relationship of centuries past to determine why she killed herself, and why he shouldn't.




Dance by the Light of the Moon
Writer: Roy Sallows
Director: Michael Levine
#6 105
A beautiful young woman is able to exert an almost supernatural control over men, driving them to commit criminal acts for her amusement. Nick manages to catch up with her, but will his own powers help prevent him from also falling under her spell?




Dying to Know You
Writer: Tony Sheer
Director: Brad Turner
#7 106
The wife and daughter of a well-known philanthropist are kidnapped and held for ransom, and psychic Denise Fort is brought in help Nick and Schanke with the case. Her powers are genuine, and therein lies the problem: she keeps picking up flashes of Nick's "other life", and Nick feels torn about whether or not to reveal himself to her, since she thinks it's a sign that she's having a breakdown. Nick's recollections of a similar situation in Puritan New England make him determined that Denise won't share th e fate of his mortal friend from that time.




False Witness
Writer: Naomi Janzen
Director: Jorge Montesi
#8 107
Nick's feelings of responsibility for the death of a man he was supposed to protect in a "sting" operation causes him to lie about actually seeing the murderer pull the trigger. In addition to the problem of having to appear in court to testify in broad daylight, Nick's desire to see justice done struggles with his conscience. He calls up memories of an incident from the past in which a woman lies in court, condemning to death a man Nick knows to be innocent, since he saw his fellow vampire Janette commit the crime.




Cherry Blossoms
Writer: Roy Sallows
Director: Brad Turner
#9 108
A woman targetted in a mob hit in Chinatown escapes, but in critical condition. Nick must find her before the mobsters do, but he gets no help or trust from an ancient acupuncturist who is hiding and caring for the victim, and who recognizes Nick as the monster who killed his mother 75 years ago.




I Will Repay
Writer: Brad Wright
Director: Jorge Montesi
#10 109
Natalie's brother Richard is shot at the police station. When it's apparent he's going to die, Natalie urges a reluctant Nick to bring Richard over as he did a leper centuries ago. Is this a second chance for Richard and his family, or will history repeat itself?




Dead Air
Writer: Alison Bingeman
Director: Steve DiMarco
23 September 1992
#11 110
Someone's calling CTOK radio's on-air psychiatrist and murdering women on the air. Dr. Noble comes to Nick's aid -- to Stonetree's dismay -- while Schanke searches through psychiatric records. Noble thinks the killer is acting out a murderous fantasy -- one that may involve her.




Hunters
Writer: Lionel E. Siegel
Director: Mitch Gabourie
30 September 1992
#12 111
Schanke's old partner is gunned down in the street. The bad guys make it clear Don is next. Jeanette lets Nick hide Schanke at The Raven because his predicament reminds them of when Nick, Jeanette, and Lacroix were hunted- only this time it appears to be an inside job.




Dead Issue
Writer: Peter Mitchell
Director: Michael Levine
#13 112
Inspector Tony Fiore's wife confesses to shooting her lover in self-defense. Case closed?




Father Figure
Writer: Michael Sadowski
Director: Gary Farmer
#14 113
A man is killed in an apparent mob hit. While the investigation is underway, the only witness, a young girl named Lisa, is left in Nick's protective custody. This duty reminds Nick of a boy he and his Old Friends cared for in World War II England and the ramifications of his immortality and sterility.




Spin Doctor
Writer: Shelly Goldstein
Director: John Cassar
#15 114
A journalist covering the mayoral election is electrocuted in his hotel room. Later his girlfriend is found dead too. It appears one of the candidates may be involved in a sex scandal. Can Nick find out who committed these murders without engaging in a witchhunt? Dirty politics and mudslinging gets Nick thinking about when he was Professor Nicholas Girard (Chicago, 1954) -- and on trial before the HUAC on charges of being a Communist.




Dying for Fame
Writer: Michael Sadowski
Director: Leon Marr
#16 115
Pop star Rebecca has a new hit video in which she kills off her fans. When a fan's body is found in her hotel room is it life imitating art or just another imitator?




Only the Lonely
Writer: Susan Martin
Director: Michael Levine
#17 116
It's Natalie's birthday again, which gets her and Nick thinking about another one of her birthdays- the day they met. Now she's met someone else- and Nick's jealousy is showing. Meanwhile a killer is murdering his dates.




Unreality TV
Writer: Michael Sadowski
Director: Clay Borris
#18 117
Being the subject of a COPS-like television show reminds Nick of his first exposure to the camera during the US Civil War. Will modern technology finally reveal the vampires' secret?




Feeding the Beast
Writer: Alison Bingeman
Director: Richard Lewis
#19 118
Nick goes undercover to investigate the murders of members of The Twelve Steps, a support group for addicts. Can his sponsor help him with his addiction, or is she out to kill him too?




If Looks Could Kill
Writer: Brad Wright
Director: Nicholas J. Gray
#20 119
Nick investigates three woman who are member of the Spa Experience. They're all young, beautiful, and have murderous tendencies, but do they share something more than skin deep?




Fatal Mistake
Writer: Naomi Janzen
Director: Michael Levine
10 February 1993
#21 120
The investigation into Stonetree's recent shooting of a perp is keeping him up nights. Meanwhile Nick confronts a ghost of his own -- one that's about 300 years older.




1966
Writer: Michael Sadowski
Director: Don McCutcheon
17 February 17 1993
#22 121
During a hostage situation at the police station, Nick recalls his life in East Berlin (as the American Nick Thomas), where he helped another family in crisis while they helped him search for the Abarat, an ancient book of miracles that may contain a cure for vampirism.




Love You to Death
Writer: Naomi Janzen, Tony Sheer
Director: Michael Levine
2 March 1993
#23 122
After a model missing for four months is found dead under mysterious circumstances, another model disappears who bears a striking a resemblance to a dancer Nick fell for a long time ago.



Fan Critiques
Edit
On-Line DVD Critiques
Edit