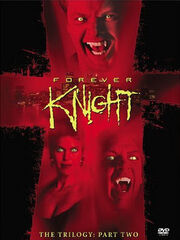 The end of Season One left Forever Knight in limbo; and it was over a year before the show returned to the air. When it did, there had been some changes.
Most obvious to fans was the transfer of Nick Knight and his partner Don Schanke from the 27th Precinct to the 96th. From a production perspective, this entailed casting a new actor, Natsuko Ohama, to play Amanda Cohen, the Captain of the 96th Precinct; and building a new set to represent the police station. Construction had not finished when filming began; and corridors leading into the main set continued to be built behind doors that, initially, had to be filmed as closed.
As well, a completely new set was built for the Raven, Janette's nightclub (which had previously been filmed on location); the set for the morgue was extended to include a cold storage room; a set was built to represent Natalie Lambert's apartment; and, partway into the season, a small set was built for LaCroix's broadcast booth at CERK Radio. For several early episodes, there were also actors hired in recurring supporting roles: Sandi Ross returned as Natalie's assistant, Grace Balthazar; and Earl Pastko was added as Miklos, a bartender at the Raven.
Rather less obvious was a minor consequence of storing props during the long hiatus: the display of art that, in Season One, had decorated the walls of the set representing Nick's loft was, for the most part, never rehung (and, if replaced, not necessarily in the same location). Instead, many pieces were simply stacked against the walls. Similar minor alterations happened in redressing other sets.
It seems originally to have been the intention to start broadcasting Season Two in late March, 1994. This can be seen from the following dates, which are fixed internally:
In the event, Season Two did not actually air until the autumn: "Killer Instinct" aired 17 September 1994. By that time, most of the episodes had already been filmed (as is obvious from the green foliage of trees in the background). Because of the delay, episodes were released markedly out of order to a degree not normally possible.
"Father's Day" was actually shown 29 October 1994, no doubt puzzling many viewers, since episodes relating to holidays tend to be shown in the week prior to the celebration. In fact, Season Two did have a seasonal episode, "Be My Valentine". As a Valentine's Day episode, it was broadcast—as one might expect—in the week of the holiday, specifically on 11 February 1995. This made it the 15th episode of the season in airing order; but it was, in fact, one of the last episodes to be made that year, 23 out of 26. (Filming actually wrapped on 7 December 1994.)[1]
The different airing and production orders complicates any attempt to summarize Season Two. If there was any original intent to shape the flow of the season, it was obviously disrupted by the radically different order in which viewers actually saw the show. Contrariwise, in so far as viewers perceived an overall pattern, that had perforce to be based at the time on the broadcast order. Subsequent reruns of Forever Knight have, however, tended to show episodes in production order.
Season Summary
Edit
In the Season Two premiere, "Killer Instinct", Nick is framed for murder and taken into custody. Eventually, he learns that this is a plot by his old master, LaCroix, who survived Nick's attempt to kill him (in the series premiere, "Dark Knight") and has returned to force him to submit to his authority as Nick's master. LaCroix is trying to force Nick to abandon his life in Toronto. However, Nick resists successfully.
Still, LaCroix does not give up all hope of persuading Nick back to the vampire community. Two episodes later, in "Stranger than Fiction", LaCroix insists that Nick kill a writer of vampire stories who is too close to the truth. In the following episode, "Bad Blood", LaCroix and Janette trick Nick into the Raven just before dawn in the hope that he will be unable to save a vampire hunter from being killed by Jack the Ripper. In each case, Nick succeeds in finding an alternative.
A couple of episodes later, LaCroix turns to a different ploy. "Capital Offense" marks his return to the role of on-air broadcaster that he had affected in "Dark Knight". As "the Nightcrawler", a late-night host on CERK Radio, he punctuates the rest of Season Two with monologues, most of them aimed directly at Nick, who persists in tuning in to listen to the show to the disgust of Schanke and Natalie.
Shortly thereafter, the conclusion of "Father's Day" suggests a rapprochement, as Nick gives LaCroix an engraved watch as a present. Thereafter, the relationship between the two men—though never easy—indicates both a truce in the present, and a measure of appreciation on Nick's part of the strength of LaCroix's emotional bond with him. Towards the end of the season, in episodes like "Baby, Baby" and "A More Permanent Hell", the relationship takes a more positive turn, though it always remains tense.
With LaCroix available for scenes in the present day, his role in the series increased. Hitherto, Janette had been Nick's primary contact with the vampire community; and she still served as a neutral liaison between him and his master. However, her role perforce shifted to accommodate the presence of LaCroix.
Midseason, the hints that Janette and Nick had once been more than simply vampire siblings/friends begin to strengthen. The flashback in "Near Death" demonstrates that her initial romantic interest in Nick in 1228 (described in Season One in "Dance by the Light of the Moon") was more than simply a way to entangle him with LaCroix; and the flashback in "Partners of the Month" reveals that they had been lovers for almost a century in the Renaissance. Indeed, their romantic relationship continues even into the present: in "Crazy Love", Nick passionately turns to Janette when aroused by the case he is working on. So, it is not surprising that, in the dream episode, "Curiouser and Curiouser", Nick sees himself married to Janette—and transforms his relationship with Natalie into an illicit affaire.
Indeed, for much of the season, Natalie's role remains essentially that of colleague, friend, and confidant, just as it had been through most of Season One. She continues, especially in the early episodes, to exhort Nick to refrain from drinking blood; and in one episode she cooks him a meal (which, inevitably, he fails to eat). In "Killer Instinct", he uses the sunbed in the loft; and, in "Be My Valentine", he takes Vitamin A pills for his skin. That Natalie is striving still to find a cure for Nick's condition is, therefore, a recurrent theme throughout Season Two. It appears most prominently in "The Fix", an episode towards the end of the season in which Natalie discovers that a newly developed drug, lidovuterine-B, has a radical effect on the symptoms of vampirism. Briefly, Nick is able to eat solid food and go out in full sunlight, until the side-effects prove too risky to continue.
Broadcast mid-season (but made towards the end of filming), "Be My Valentine" is a potentially pivotal episode in developing Nick's relationship with Natalie: they finally admit their love for one another. However, LaCroix's intervention leaves it dubious whether she retains any memory of the events of Valentine's Day.
Besides ongoing character development, Season Two has a number of episodes devoted to expanding the characters' backstory. Early on, "A Fate Worse than Death" describes how Janette had become a vampire, while the late episode, "A More Permanent Hell", does the same for LaCroix. "Near Death" provides more detail about Nick's transformation, especially the strange experience that he had while lying unconscious on the border of life and death; "Queen of Harps" provides a rare glimpse into his mortal life; and "Be My Valentine" shows him returning to his family shortly after being brought across, as well as further enriching the characterization of LaCroix by introducing his abortive love for Nick's sister, Fleur.
There is also some expansion of our knowledge of vampires and their community, albeit never with any consistency. "Bad Blood" shows that a man who had been attacked and almost brought over—though saved—nevertheless retains a sensitivity to daylight and the presence of vampires. It also reveals that Jack the Ripper was a vampire. "Forward Into the Past" introduces Aristotle, the community's go-to guy for new identities when they move on. "A More Permanent Hell", besides revealing that LaCroix had been brought across by his daughter, Divia, also suggests the existence of at least one ancient vampire, who was her master. "Baby, Baby" demonstrates that Nick is not the only vampire wanting a cure: his "daughter" Serena is, in her own way, just as keen in pursuit of mortality. We also learn that Nick is immune to psychotropic drugs ("Faithful Followers"); even a poison such as curare has little effect ("The Code").
Nevertheless, for all the fascinating vampire lore, the principal focus of most episodes remained the police plot. Forever Knight was a cop show with a difference; but Nick still had murder mysteries to solve, and his "difference" was often merely employed as a means to that end. His new boss, Captain Cohen, remained enigmatic; her character was never fully developed. His partner, on the other hand, was integral to every episode. As in Season One, Schanke remained a foil for the more flamboyant character of Nick.
Season Two had no clear finale. Indeed, the last episode filmed, "Blood Money", was not broadcast last, but rather aired closer to mid-season. The last episode broadcast, "Crazy Love" had been filmed exactly half-way through the season. Forever Knight ended its second season equivocally; and the question then became whether it would return for a third year, and be brought to a satisfying conclusion.
Episode List
Edit
This list presents the episodes in production order (i.e., the order in which they were filmed). It should be noted that the order in which they were originally aired often varies markedly.
Image
Title
Writer(s)
Director(s)
Airdate
#
Killer Instinct
Writer: Naomi Janzen
Director: Michael Alan Levine
17 September 1994
#24 201
While investigating a series of murders, Nick discovers that an ancient evil from his past is behind the crimes. LaCroix, his former vampire master, has returned to the city in search of Nick, his one-time pupil. The murders, coldly orchestrated by LaCroix, threaten to uncover Nick's sinister secret when he is arrested as the prime suspect. With the hel of his partner, Don Schanke, and the department pathologist, Natalie Lambert, the only mortal who knows his true identity, Knight escapes. Now an outlaw, he must track down the killer and find LaCroix before he is forced to give up his dream of regaining his mortality.




A Fate Worse than Death
Writer: Gillian Horvath
Director: Don McCutcheon
24 September 1994
#25 202
Janette turns to Nick for help when Julie Beamer, a young "lady of the evening" whom she has befriended, is murdererd. However, Nick finds his hands tied when there isn't enough evidence to hold the prime suspect. Once a working girl herself, Janette is outraged by the lack of "justice" and seeks to quench her thirst for blood when she learns the killer may have been Mason, her friend's pimp. When Mason and a fellow cop turn up dead, Nick traces the murders to Celeste Morgan, a seemingly innocent girl trapped in a life of prostitution.




Stranger than Fiction
Writer: Phil Bedard & Larry Lalonde
Director: Clay Borris
1 October 1994
#26 203
Life imitates fiction when Emily Weiss, the best-selling author of a series of vampire novels, is attacked by a crazed fan. Her works are amazingly true to life, leading Nick to believe that she may know more about the vampire community than she says. LaCroix, the leader of the community, sees her as a threat and declares that she must die and Nick must carry out the decree. Nick, however, finds that he is falling in love with this woman. She is the only mortal capable of understanding what it is like to live in eternal darkness, and she would go willingly into his waiting arms if asked. The time has come for the truth and the fiction to become one, and her fate rests in Nick's hands.




Bad Blood
Writer: James Johnston
Director: Allan Kroeker
12 November 1994
#27 204
Nick discovers an ancient, terrifying evil is behind a series of grizzly murders plaguing the city, and he may not be able to stop it. He is unknowingly paired with Chief Inspector Liam O'Neal of Dublin C.I.D., a vampire hunter with a dark secret, who has tracked the murdering creature's bloody trail half way around the world. Wary of O'Neal, Nick begins an investigation of his own, learning the Chief Inspector's true identity, as well as that of the killer -- Jack the Ripper -- a vampire created by LaCroix. Nick had a chance to destroy the Ripper a century ago, but turned his back, unleashing a century of carnage around the world. He must now put aside his guilt and finish the job, but in doing so, O'Neal may finish him.




Forward Into the Past
Writer: Michael Levine & John Scheinfeld
Director: Don McCutcheon
8 October 1994
#28 205
It has been more than forty years since Nick has seen his close friend, Katherine Barrington, and her secretary Madelyn Pinchot. Now, after Madelyn has been murdered, Nick knows that Katherine will be next if he doesn't find her before the killer does.




Capital Offense
Writer: Michael Sadowski
Director: Timothy Bond
26 November 1994
#29 206
Nick and Schanke apprehend a convicted murderer on the run from Texas authorities when an anonymous tip leads them to a rental car agency. Nick believes she may be innocent; but he must prove it before she is extradited and put to death for her crime.




Hunted
Writer:
Director:
#30 207
A series of bizarre murders lead Nick and Schanke to believe that somebody is hunting the city's most dangerous criminals for sport. When they go undercover to catch the killer, Schanke is taken hostage and it is up to Nick to save him before the hunter makes Nick her ultimate trophy.




Faithful Followers
Writer:
Director:
#31 208
Nick joins the Luminology cult to investigate the death of a city official's son. When he inexplicably breaks off contact with the department, however, Natalie infiltrates Luminology's headquarters and discovers that Nick has been brainwashed.




Undue Process
Writer:
Director:
#32 209
The two day search for Natalie Lambert's young goddaughter ends when the child's body is discovered in the woods. After Nick Knight rescues the alleged killer from an angry mob of vigilantes, a blood test and line-up fail to provide enough evidence to hold him. Removed from the case because of her ties to the victim, Natalie questions the results of the lab work. When the suspect suddenly dies, Natalie performs her own lab test and uncovers another murder.




Father's Day
Writer:
Director:
#33 210
David Constantine is the next in line to become "Don" of the city's biggest crime family, but after witnessing a lifetime of killing and bloodshed, he just wants to live a normal life with his family. Nick Knight understands David's dilemma, as he wants to get away from his self-proclaimed father, LaCroix. However, David's great grandfather will stop at nothing to ensure his grandson's enshrinement, even going to LaCroix for help. This sets up a Father's Day showdown between David and his great grandfather and Nick and LaCroix.




Can't Run, Can't Hide
Writer:
Director:
#34 211
Highly respected parole officer, Casey Brooks, is the prime suspect in the investigation of a murdered Vietnam veteran. Nick Knight is certain he has encountered Brooks in the past and flashes back to wartime Vietnam to discover Brooks' true identity, along with the dark secret that could ruin the parole officer's career. But the investigation changes course when Nick's prime suspect nearly becomes the next victim.




Near Death
Writer:
Director:
#35 212
Nick investigates the death of a young doctor when Natalie is unable to determine the cause. Intrigued by the doctor's experiments in near death experiences, Nick secretly agrees to "go under" in an attempt to reconcile his own past. But the experiment goes awry and Natalie must find a way to bring Nick back form his altered state of consciousness.




Crazy Love
Writer:
Director:
#36 213
Soon after a psychopathic killer, Peter Barlow, escapes from a mental institution, a patient's body is discovered on the hospital grounds -- the victim of a brutal and vicious murder. The following day another patient's body is discovered. Both crimes match Barlow's M.O., and Nick Knight is determined to prevent another murder. But, Nick's quick arrest of Barlow proves there is a different killer at large. Now he must find a new connection between the victims and the murderer.




Baby, Baby
Writer:
Director:
#37 214
Serena, a victim of Nick's immortal bite from the past, has a plan to regain her mortality. According to ancient legend, a vampire will become mortal if she bears a mortal's child. But to conceive, the mortal must possess an extra chromosome and will be murdered soon after conception. When Trilling, who possesses the magic chromosome, is arrested for murder, Serena provides an alibi to get him out of jail. Fully aware of Serena's plan, Nick struggles to solve the murder -- torn between reconciling the wrong he did Serena and preventing yet another murder. But his actions, along with the reasons behind them can never be revealed.




Partners of the Month
Writer:
Director:
#38 215
Upon leaving his wife, Schanke moves in with Nick, expecting to lead a wild bachelor's life with his partner. But the two are soon at odds over the investigation of a wealthy business-man's murder. Feeling that Nick is once again trying to keep one step a head of him, Schanke vows to solve the case on his own. Acting on a sudden revelation while drowning his sorrows in liquor, Schanke rushes to apprehend the murderer without his partner and captures the killer single-handedly. Or, so he thinks.




The Fire Inside
Writer:
Director:
#39 216
A crazed killer using a flame-thrower to torch his victims sends Nick and Schanke on an underground pursuit. In the confined quarters of the underground sewer system, it's anybody's guess who will find who first. While Nick faces his fear of fire, Natalie discovers she has her own fears to deal with.




Amateur Night
Writer:
Director:
#40 217
A drive-by shooting could ignite a gang war, but Schanke's got stars in his eyes moonlighting on a movie set. Then the star of the movie steps right into the killer's path. Will Nick and Schanke find the renegade killer before this movie star is history?




The Fix
Writer:
Director:
#41 218
Natalie's research leads her to believe she might be able to cure Nick, if he's willing to take the risk. While taking the wonder drug, Nick and Schanke unofficially investigate the suicide of another cop.




Curiouser and Curiouser
Writer:
Director:
#42 219
When Nick efforts to stop a robbery without using his "vamp" powers causes a death, he becomes consumed with guilt. Nick's life seems to spin out of control and nothing seems as it is. Things truly become curiouser and curiouser.




Beyond the Law
Writer:
Director:
#43 220
A serial killer who appears to get women completely in his control before killing them is on the loose. But he may be untouchable since it looks like he's a diplomat. Nick's past experience with people who abuse power indiscriminately may make him step over the line in pursuit of justice.




Queen of Harps
Writer:
Director:
#44 221
When Nick is unable to obtain at auction a harp that has ties to his mortal past, his actions are less than legal. When the auctioneer is found murdered, Nick finds himself in a precarious situation, caught between the harp's longing and his own desires.




Close Call
Writer:
Director:
#45 222
When Nick saves Schanke's life during a fire fight, Schanke can't help but notice Nick has taken up flying. Despite Nick's hypnotic suggestion to forget what he saw, Schanke begins investigating Nick's past. Natalie can't deflect him and Janette's attempts to hypnotise him fail. The trail soon leads him to conclude his partner is a vampire and from there to LaCroix. The question is, what is LaCroix going to do with the inquisitive Schanke?




Be My Valentine
Writer:
Director:
#46 223
Valentine's Day not only brings out a killer who lures in women with romantic cards, but turns Nick's thoughts to Natalie, and LaCroix's to past love. All this love in the air is bound to be dangerous.




The Code
Writer:
Director:
#47 224
When Schanke's ex-partner Delehanty shows up, his rich, comfortable, and "warm" life in Arizona, gets to Schanke's winter-worn heart. When Schanke and Delehanty conclude that a series of deaths are the result of product tampering, Nick's hunch about the case drives a wedge between him and Schanke. When Schanke refuses to listen to Nick, he must solve the case despite Schanke and Delehanty's conclusions, and before Schanke decides Arizona might be the place to be.




A More Permanent Hell
Writer:
Director:
#48 225
When the head of a team of astronomers is commits suicide, their predictions of a meteor's collision become public. As panic sweeps the world both mortal and vampire populations face their personal fears. Some of those fears lead to unusual actions.




Blood Money
Writer:
Director:
#49 226
Present day events mirror the past when the head of the prestigious financial investment firm that controls Nick's secret fortune is murdered. Stolen from a highwayman two centuries ago, the fortune is again the target of greed, as a local criminal kingpin frames the dead executive's son for the murder. LaCroix's teachings ring true as greed once again, breeds tragedy--a lesson the master vampire preached centuries ago.



Fan Critiques
Edit
On-Line DVD Critiques
Edit
References
Edit
↑ This information comes from an Omni online interview with Nigel Bennett (http://www.blackhatstation.com/Interviews/omni.htm).