We're Getting Mutants in the MCU - The Loop
Play Sound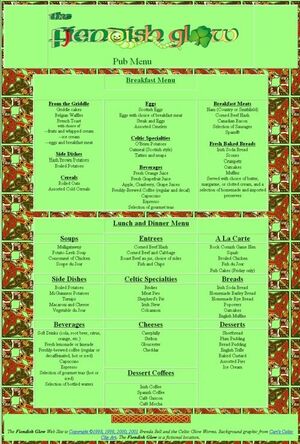 The Fiendish Glow is a fictional pub that serves as headquarters for two of the minor Forever Knight factions: the Celtic GlowWorms and the Tequila Fiends. This pub is located on a street corner in downtown Toronto in the universe in which the Forever Knight Wars take place. The Fiendish Glow is also the name of a website (http://n2kye.webwarren.com/Fiendish_Glow/) about the pub and the activities of the faction members who frequent it.
The Fiendish Glow is bankrolled by the fictional Faer Hibernean Foundation. They also set down the rules and regulations for its establishment.
Website Design
[
]
The style in which the website is written deliberately mimics that used on websites advertising real establishments. It is largely written in the first person plural ("we"), to suggest that the reader is being addressed by the management of the pub. In this vein, the following appears on the front page of the site:
A comfortable, friendly pub and cantina right in the heart of FKFIC-tional Toronto. You will find authentic cuisine, fine beverages, imported liquors, live entertainment, and friendly service.

Our special ventilation allows us to provide an atmosphere that is almost allergen-free while still providing accommodations for those who wish to smoke tobacco with their meals.

Our convenient Metro entrance is open whenever we are, making us easily accessible to the sun-sensitive.

Located in an alternative vampire universe in which we are all aware of Forever Knight Toronto's large undead population, the underground (Metro) entrance and pub, and garlic-free menu, help us fulfill our charter requirement of "vampire friendliness". We maintain separate storage and preparation facilities for the donated and medically-rejected blood that this universe's vampires need to sustain themselves.

If you are planning to visit the FKFIC-L War universe in the near future, make it a point to stop in and sample our wares. You won't be disappointed.
Contents
[
]
flyer for the Grand Opening Night of the pub
menu for the pub
list of members and fictional staff
"karaoke" section, containing an archive of filk based on traditional Celtic songs
archive of those stories from War Nine and War Ten in which members of the Celtic GlowWorms and Tequila Fiends took part
explanation of the "glows" referred to in the name of the Celtic GlowWorms faction
Website Location
[
]
http://n2kye.webwarren.com/Fiendish_Glow/
Site History
[
]
The Fiendish Glow website was created in 1998. It was originally located at http://home.earthlink.net/~webwarren/glow/, and moved to its current location in September 2011.